Billy Oh Compact Store
Garden Centre > Greenhouses, Sheds & Storage > Storage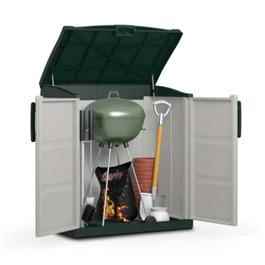 Billy Oh Compact Store
£89.95
Beautifully engineered COMPACT store ideal where space is limited in the garden, on the patio, on the balcony, garage or utility room. Made from U.V stabilised resin for all-year-round weather resistance - totally maintenance-free. Includes full width pad-lockable opening doors lid padlock NOT supplied , flip-up lid and two handy door storage trays, adjustable shelf and integral floor. Supplied flat-packed for uncomplicated, easy assembly all parts click together in minutes door handles require screwing in place screws supplied . . Exterior dimensions 88cm x Wide x 57cm Deep 93cm high at front and 99cm high at rear . Interior dimensions 81cm x Wide x 45cm Deep 89cm high . Packed product weight 14KG . Packed product dimensions 92cm x Wide x 62.5cm Deep 29.5cm high . .

Our community of gardeners have a wealth of experience, beautiful garden and great photos, discover more on the following pages: storage ideas.
Related Products


* Support Grows on You when you shop via the Garden Centre.
Why shop via the Grows on You Garden Centre?
Buy With Confidence
Find Inspiration
The Perfect Product
Wishlist